Matthew Merrill
Full Stack Software Developer
Index | Projects | Slides
---
Table of Contents
My senior project, Statistics Analysis Visualizations for Introductory Statistics (SAVIS), is a website/standalone program to assist teachers in teaching statistics.
My teammates and I worked with CSUS statistics professor Rafael Diaz to create the software and translate it into Spanish so it can be used to teach hypothesis testing strategies to students in Mexico. A link to the project and its downloadable versions can be found on Professor Diaz' website.
DebugJudge #
Spring 2017 - Spring 2018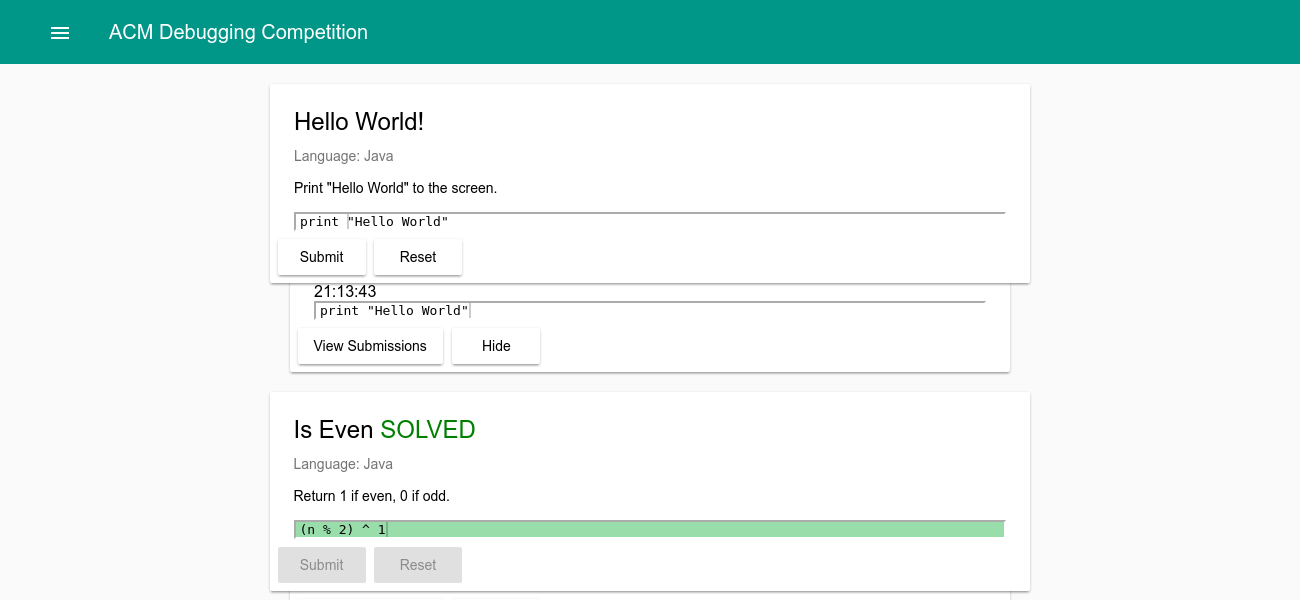 Automates nearly every aspect of debugging competitions - registration, login, submission queuing, scoreboards, etc.
In moving their competition onto this system, the CSUS ACM chapter saw a decrease in time required for both volunteer training and submission responses: the average time it took for teams to receive a ruling was reduced by 83% from 5 minutes to 53 seconds.
If there's a feature you'd like to see implemented, please feel free to file an issue on the open-source project!
Made for 3rd year of high school for science fair. Traces vector paths using two wheels and a suspended pen rig. Custom Android app can be used to convert any image into the vector format.
1st Place, 173.75/175 points: Folsom High's Engineering Challenge 2014
1st Place, CA-07: U.S. House of Representatives' "House App Challenge"
---